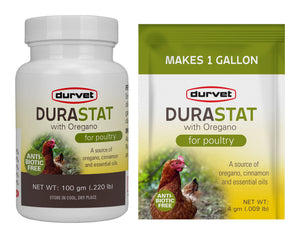 Durvet DuraStat with Oregano
Durvet DuraStat with Oregano is a source of energy and essential oils to stimulate water consumption and appetite during disease conditions, shipping, weather change or stress.
(Not for sale in New Mexico)
A source of oregano, cinnamon and essential oils
All-natural alternative to stimulate water intake & enhance immunity
When antibiotics are not desired
It's easy! One scoop or one packet per gallon of drinking water
May be used together with other Durvet poultry soluble products
Salt, Citric Acid, Maltodextrin, extracts of Origanum (oregano), Rosemary, Sage, Cinnamon and natural flavorings.
Per 4 gm scoop
Salt (min)....................51.6%
Salt (max)...................56.6%
Citric acid (min).........30.0%
Origanum (min).........08.0%
Rosemary, less than....01.0%
Sage, less than.............01.0%