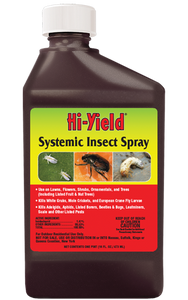 Hi-Yield Systemic Insect Spray
Kills insects and prevents new infestations. Can be applied as a foliar spray.

Use on flowers, trees, shrubs, fruits, and nuts. Residual control of 2 to 4 weeks.
Rainproof Protection.
Lasts for Weeks.
This product forms a protective barrier in the soil which provides control of listed pests all season long.
Please read and follow label directions.
| | |
| --- | --- |
| | Hi-Yield |
| | 60 |
| | 16 oz |
| | 7-32221-30205-1 |
| | Trees/Shrubs, Garden/Plants |
| | No |
| | Liquid |
| | 30205 |