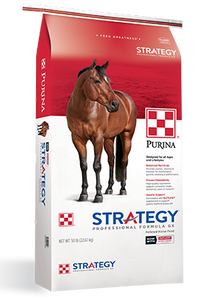 Purina® Strategy® Professional Formula GX Horse Feed
Optimal Nutrition for Any Horse at Any Life Stage

In 1991, Strategy® horse feed revolutionized horse nutrition by becoming the first commercial pelleted feed
created for horses of all ages and lifestyles. Over 1 billion feedings later, Strategy® horse feed is still the gold
standard in convenience and value for horse professionals.

Whether you feed growing, breeding, show, performance or recreational horses, Strategy® horse feed is the
one diet you can count on for balanced nutrition for every horse. And thanks to optimal levels of quality
protein, fat, vitamins and minerals, Strategy® horse feed's nutrient blend offsets common nutritional
deficiencies. Best of all, horses love the taste, making it even easier to use.

HIGH QUALITY PROTEINS MAKE A DIFFERENCE YOU CAN SEE®
Because it is essential for healthy muscles, protein is often considered the single most important nutrient in
a horse's diet. But not all proteins are alike. Even if a feed contains high protein levels, your horses still may
not be getting the best possible nutrition if the quality, level, balance or digestibility of key amino acids are
lacking. That's why Purina uses many of the highest quality proteins available in its Strategy® horse feed,
and then adds essential amino acids to ensure an optimal amino acid balance. It's a nutritional difference
you can see—through strong fetal development and milk production in brood mares, optimal growth and
muscle development in young horses and strong muscle maintenance in performance horses.