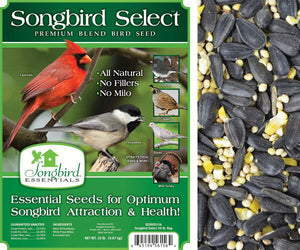 Songbird Select Premium Blend Bird Seed
Songbird Essentials Premium Bird Seed is designed for optimal Songbird attraction and health! All Natural with No Fillers! Songbird Select contains Black Oil Sunflower, corn, and white millet. A nice blend with lots of sunflower and a little more millet for ground feeders. Attracts Juncos, Quails, Doves, Cardinals, Chickadees, Wild Turkey's and more. Also available in 5lb and 40lb bags.
Freight costs will be added to all seed purchases. As with all commodities, seed price fluctuates daily. Our goal is to update prices only when necessary. Seed purchases are preferred to be set up on an ACH basis providing a 3% discount to our customers. ACH pulls will take place when seed orders ship. Credit cards can be used for seed purchases, however the 3% ACH discount will not be applied.
Please note that all seed orders of 200# are sent directly to our manufacturer for fulfillment and lead time averages 1 – 2 weeks.