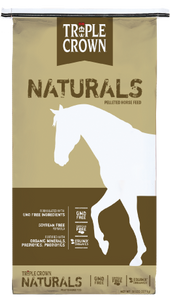 TRIPLE CROWN NATURALS PELLETED HORSE FEED
A SUPER PREMIUM GMO-FREE, CORN, SOYBEAN, AND MOLASSES FREE PELLETED FEED THAT SUPPLEMENTS ITS ESSENTIAL GOODNESS WITH EQUIMIX® ORGANICS, A UNIQUE COMBINATION OF ADVANCED SUPPLEMENTS FORMULATED TO KEEP YOUR HORSE AT ITS HEALTHIEST.
The first premium feed of its kind to provide horses with wholesome, solid nutrition, just as Mother Nature intended. Featuring a healthy recipe that's made with non-GMO and soybean free ingredients, and includes essential vitamins and nutrients, Triple Crown Naturals is the perfect feed for owners who know real nutrition starts with real ingredients.